Information about the iSAQB CPSA program
With the Certified Professional for Software Architecture program (CPSA®), the iSAQB has set an internationally recognized standard for training and certifying software architects for their roles and responsibilities in IT projects. The comprehensive program, which has grown over the years, is also aimed at all project participants who work on solution structures and need a technical understanding across various IT disciplines. In addition to the areas of software architecture and software development, these also include quality assurance, system analysis and software testing.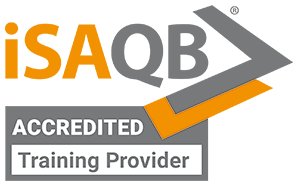 Companies from almost all sectors rely on iSAQB-accredited trainings offered by providers such as our ITech Academy for further training of entire project teams or individual employees. Currently, more than 20,000 people worldwide have successfully completed a certification from the CPSA® program, thus providing valuable proof of their skills. The CPSA® program consists of the CPSA Foundation Level (CPSA-F®) and the more advanced CPSA Advanced Level (CPSA-A®). The CPSA Expert Level (CPSA-E®) is the highest level and is currently in preparation.
The certifications of the CPSA program are not a professional qualification, but an internationally recognized proof of skills and knowledge in the field of software architecture.
The CPSA Program at ITech Academy
Basics of Software Architecture (CPSA Foundation Level)
The Foundation Level is the first certification level of the iSAQB CPSA program and offers a comprehensive and in-depth insight into the world of software architecture. In this 3-4 day training, participants learn the basic terminology of software architecture and are provided with important methods, techniques and tools through practical exercises. Thus, after the training, they acquire skills to design, document and evaluate software architectures for small to medium sized systems and to ensure quality.
In order to receive the Certified Professional for Software Architecture – Foundation Level (CPSA-F ®) certificate, a multiple choice test must be passed after the training. More information about the exam can be found here.
We support you on your way to the certificate! Find out more about the CPSA-F training in our ITech Academy here.

Advanced competencies in software architecture (CPSA Advanced Level)
The Advanced Level is the second certification level of the iSAQB CPSA program and ideally continues the advanced training in the field of software architecture. It is structured in 17 training modules that include competence areas of methodology, technology and communication. The comprehensive selection of training modules will allow you to build targeted expertise. From architecture assessment, Cloud infrastructures and Domain Driven Design, to important soft skills and web architectures, all key areas of software architecture are represented. With each training course attended, participants earn corresponding credit points from the 3 competency areas in order to then be admitted to the CPSA-A certification exam with a minimum of 70 credit points. This requirement is usually met after three trainings.
In order to receive the Certified Professional for Software Architecture – Advanced Level (CPSA-A®) certificate, a written paper (similar to a term paper) must be completed after achieving the 70 CP from the three competency areas.

You still have questions? We will be pleased to help you!
Please call us at +49 621 595702 41 or send an email to: training@itech-progress.com