Training courses and workshops
Knowledge with certification!
In our ITech Academy we offer you a broad portfolio of training courses and workshops on the subject of software architecture! For over 19 years, software architecture has been our great passion, which is why we have made it our mission to pass on our know-how to individuals and companies for active value creation. We are an accredited training provider of the International Software Architecture Qualification Board (iSAQB) and offer in addition to our public training courses also in-house training as online or face-to-face events.

We continuously monitor the current developments and remain flexible for you, taking into account the official recommendations! Here you can read about our hygiene measures for presence training. Would you like to taking part remotely? Then take a look here to our online trainings.
iSAQB accredited software architecture courses
The International Software Architecture Qualification Board (iSAQB) provides an internationally recognized, standardized education and training program for software architects. With the training courses to become a Certified Professional for Software Architecture (CPSA), more and more companies ensure a consistent knowledge base among their employees and increase the quality in their software projects. With their iSAQB CPSA certificates, training participants also set the course for their personal success as software architects and build up additional specialist knowledge in a targeted manner. The result is a win-win situation for all participants!
The iSAQB CPSA program is divided into the Foundation Level and the Advanced Level. Start with the Foundation Level and expand your knowledge in the Advanced Level.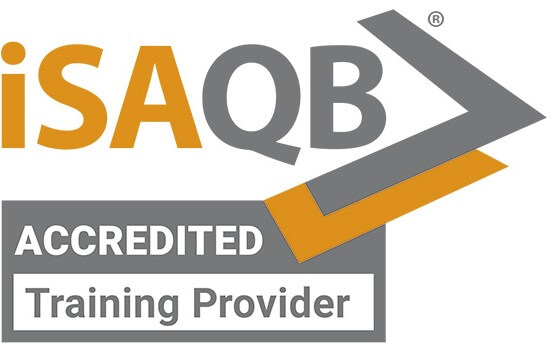 Small training groups
Didactically trained and practice-proven trainer
Public and in-house
Catering included
iSAQB CPSA Foundation Level
The Foundation Level serves to build a comprehensive basic knowledge of software architecture. You will get to know all relevant definitions and methods and apply the acquired knowledge directly in practical exercises. This will enable you to design a software architecture for small and medium-sized systems and document it professionally. The training is suitable for all employees involved in IT projects to develop a common basis and technical language.

3- or 4-day training
Certificate exam on the last day of training – if required
iSAQB CPSA Advanced Level
17 modules with the competence areas methodology, technology and communication, this is the iSAQB CPSA Advanced Level in the ITech Academy. From Web Architectures to Domain Driven Design and the important soft skills, you can find all relevant topics on the way to advanced software architecture and CPSA-A certification.
In order to take the CPSA-A certification exam, a total of 70 credit points must be earned in the three competence areas mentioned above. This can usually be achieved with three training sessions, i.e. three modules. We would be happy to advise you personally on the individual composition of your training courses!

17 modules in the competence areas technology, methodology and communication
Certification exam after 70 collected credit points possible
Strategy Mapping with Wardley Maps
The 2-day workshop introduces strategy mapping with Wardley Maps as a method for strategic decision making in the IT environment. Create situational awareness by getting to know your environment and the influences that affect it in a visual way. In addition to creating the maps, you will gain the know-how to read and understand Wardley Maps and to derive concrete actions and strategies from them! Let's draw a map of our strategic environment!
Domain driven design method toolbox
In this 2-day hands-on workshop with a high practical component, we will provide you with proven methods such as event storming, domain storytelling, scenario mapping and Wardley maps as a supplement to your DDD toolbox!
Do you have an entire team that you would like to provide a training for? More and more companies rely on the continuous training of their IT teams through in-house training. If no training or workshop from our portfolio fits, we are happy to design tailor-made training courses according to your wishes.